If you do not want looking in the mirror in the morning to discover new wrinkles and if you want as quickly as possible to get rid of bags under the eyes and wrinkles on the cheeks, then you have got to address. In our Asian cosmetics store all tools are available to help you to get rid of skin problems in the shortest time.
Miracle collagen facials are available to all. The issue of premature aging will no longer bother you. Vio-collagen, on the basis of which is made these masks, take care to extend the youth of your skin. Mask with collagen and biogold able to transform faded, mature, wrinkled skin instantly.
Collagen facial mask improves blood circulation, detoxifies, providing a deep cleansing of the skin.
Regular use of a collagen mask activates the metabolism, causing cells to produce additional doses of collagen and elastin. Dry skin is no longer a problem for you - collagen mask moisturizes even the driest skin. Wrinkles smoothed, and scars and deep wrinkles become less visible.
The mask has a recovering effect, so it is good in the recovery period after a chemical salon procedures. After the first application you will notice how the skin tightened, and facial contours become clearer.
Collagen Eye Mask relieves swelling and bags under the eyes. Eliminate fine wrinkles, moisturize.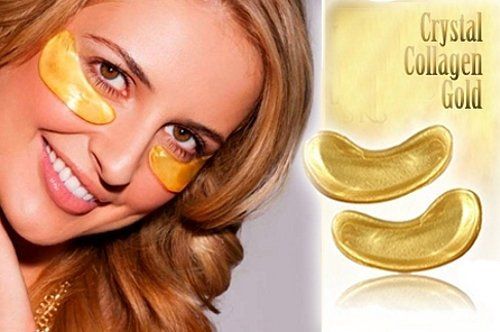 And that mask with collagen facial qualitatively fulfilled such a magical effect on the skin, you should be able to use it, following a series of simple rules.
1. For best results, place the mask in the refrigerator for a couple of hours before use.
2. Apply the mask on clean skin only.
3. Keep the mask on your face for at least 20 minutes.
A safe, effective, high-quality, has tremendous rejuvenation, collagen mask will help you to be victorious in the fight against premature aging of the skin. If you use it regularly and properly, you can lose a couple of years in just a few applications and not to be afraid in the morning look in the mirror.