Thai manufacturer Pobtamsamunprai (Ntgroup) produces sumptuous hair mask, which is rightly deserved find the preference of our customers!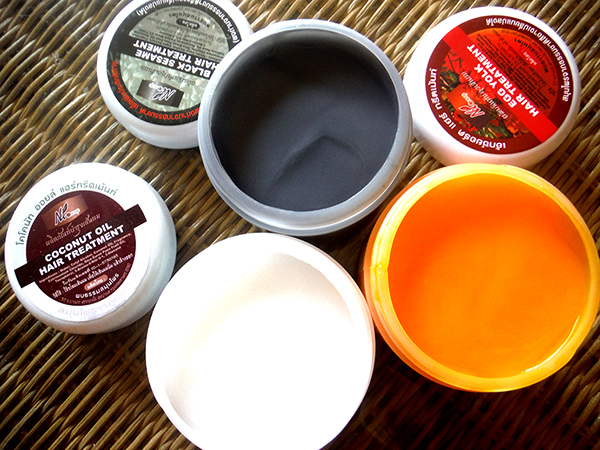 If you have never used a Thai hair mask, then I highly recommend trying. I assure you, after the first application, you will feel the difference!
1. In the first place - Black hair mask of black sesame seed oil with the addition of spirulina algae, vitamin E and bamboo charcoal.
Did you know that sesame oil is useful not only for our bodies, it is perfectly softens and moisturizes the skin, relieves irritation, stimulates regeneration of hair follicles, thereby enhancing hair growth, as well as sesame seeds can restore the natural color of gray hair!
The protein contained in spirulina algae regenerate hair follicles, well nourishes the hair, making them much stronger. About that, how much useful vitamin of youth (E) will not be repeated, is perhaps known to all, and that's become extremely popular, bamboo charcoal little talk. The main reason for its popularity in cosmetics, a reinforced purifying and antibacterial effect. 
Cosmetics with the addition of bamboo charcoal deeply cleanse pores of impurities, remove dead cells, excess sebum, ammonia, formaldehyde, dust.
This wonderful mask will give a shine and healthy appearance, even the most damaged hair.
2. Second place rightfully belongs to the super vitamin mask with papaya juice, egg yolk and olive oil.
This mask has a bright orange-yellow color!
Most solar-magical element of the mask is the Papaya. It may be called "the queen of vitamins and minerals." In this tropical plant contains vitamin C, B1, B2, B5, D, potassium, chlorine, calcium, zinc, iron, magnesium, fructose, glucose.
The egg yolk contains vitamins A, D, E and group B, phosphorus, potassium, magnesium, folic acid and nicotinic lecithin fine reduced hair structure and contribute to strengthen them.
Olive oil - a very effective tool that is often used in the treatment of hair loss. It supplies the hair nutrients needed for health and growth, provides adequate nutrition and hydration of the scalp and hair follicles.
Here's a storehouse of vitamins! If you have dry, thin, dull hair damaged by permanent coloration, this hair mask, just what you need. Try it, and after a couple of weeks, your hair will be healthy and beautiful!
3. Mask based on coconut oil in third place not because it worse, but because its composition is not as diverse as opposed to the first two.
In this mask hair and primarily the main component is coconut oil. Coconut oil is very useful for scalp. It nourishes and moisturizes the hair. This is the best mask for dry hair and skin prone to dryness. It perfectly protects the hair from the sun without letting them dry and burn out. Even after swimming in the sea water, your hair will stay smooth and soft.
How to apply a mask:
After shampooing the head, apply a small amount of the mask on the hair. Distribute the massage across the surface of the scalp and hair.
For therapeutic effect it is desirable to keep the mask on the hair for 20-30 minutes. And use it at least 3 times a week.